About the Summer Thunder Music Ensemble
Contact Information
If you would like to contact the ensemble for information about performances, or would like to be part of a mailing list for news notification, you can contact the director at: _director_@_summerthundermusic.com (Be sure to remove the underscores from the address.)

If you play an Asian musical instrument and live in the Tucson, Arizona area, we would love to hear from you. Please contact us at _join_@_summerthundermusic_._com_ (Be sure to remove the underscores from the address.)
Club Members
Member profiles can be found here.
Ensemble History
The original incarnation of the UofA Asian music club was under the direction of University of Arizona Ethnomusicologist, Dr. Janet Sturman, in 1999.
The club was reincarnated in October 2005 under the direction of Paul Amiel. The initial group consisted of 5 members, Paul Amiel, Andrew Wilt, Ma Yan, Ning Hongmei, and Jennifer Kubecka as president.
The club then grew with the addition of Ping Zhou, Sarah Stevenson, and David Schalle.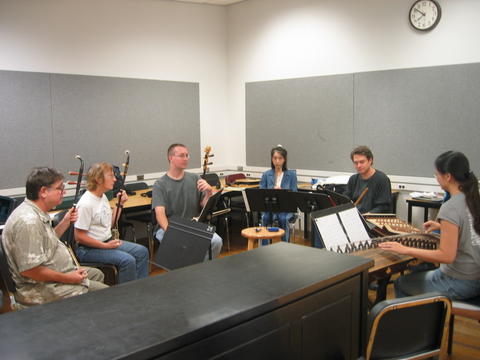 The club grew again with the addition of Martin Reinhold, Julie Trujillo, Daniel Morrow, and Liu.At the beginning of 2006, we played our first performance at the 17th Street Farmer's Market.
In the new year, the club saw the addition of the singing talents of Chen Yi, Li Schmidt, and Michael Torres. Peng Meijoined the Erhu section as well. Jessica joined the flute section. Wei Yuan joined on the Gu Zheng.
The group performed at the Tucson Chinese Culture Center, 17th Street Market, and Satori School before the end of May 2006.

In 2009, Summer Thunder left the University of Arizona Asian Music Club in order to pursue more difficult pieces. The Asian Music Club has continued with members and growth. They have their own ensemble called Purple Bamboo.